Thanks to Railfuture East Anglia for their assistance in preparing this paper.
The potential of rail
Cambridge's railway network already has a significant role in bringing people into the city, with an annual footfall of 12 million (2017/18) at both stations, equating to around 16,500 people every day. Of those, around 5,000 are commuters to Cambridge (based on the 2011 Census figure of 3,596 plus 36% growth in footfall since then). That's around 10% of the total number of commuters into the city.
The congestion-free nature of rail makes it the public transport mode of choice for shifting large numbers of people with reliable journey times. Rail can contribute significantly to the aims of the Greater Cambridge City Deal in linking people to jobs, but the City Deal must work with the rail industry and other organisations to make this happen. Rail's high capital costs, and delays in the current national rail capital programme (see the Hendy Report), mean that additional funding, probably from the private sector, will be essential if some of the larger projects described here are to be built within the fifteen-year timescale of the City Deal.
Why rail is underutilised
The full potential of the existing railway network is not being realised because of:
Low service frequency on some routes, especially Newmarket to Cambridge
Overcrowding
Lack of convenient and safe pedestrian and cycle routes to some stations
Inadequate facilities at some stations:

Insufficient car parking
Insufficient or insecure cycle parking
Lack of step-free access
No toilets

Poor inter-connection with local bus services
Complex ticketing for train & bus or cycle hire
A future Cambridge rail network
A number of organisations have published documents identifying rail enhancements, including new stations and new lines, almost all of which lack a timetable and/or funding:
This map shows a future regional railway network that includes the most beneficial and readily achievable of those schemes: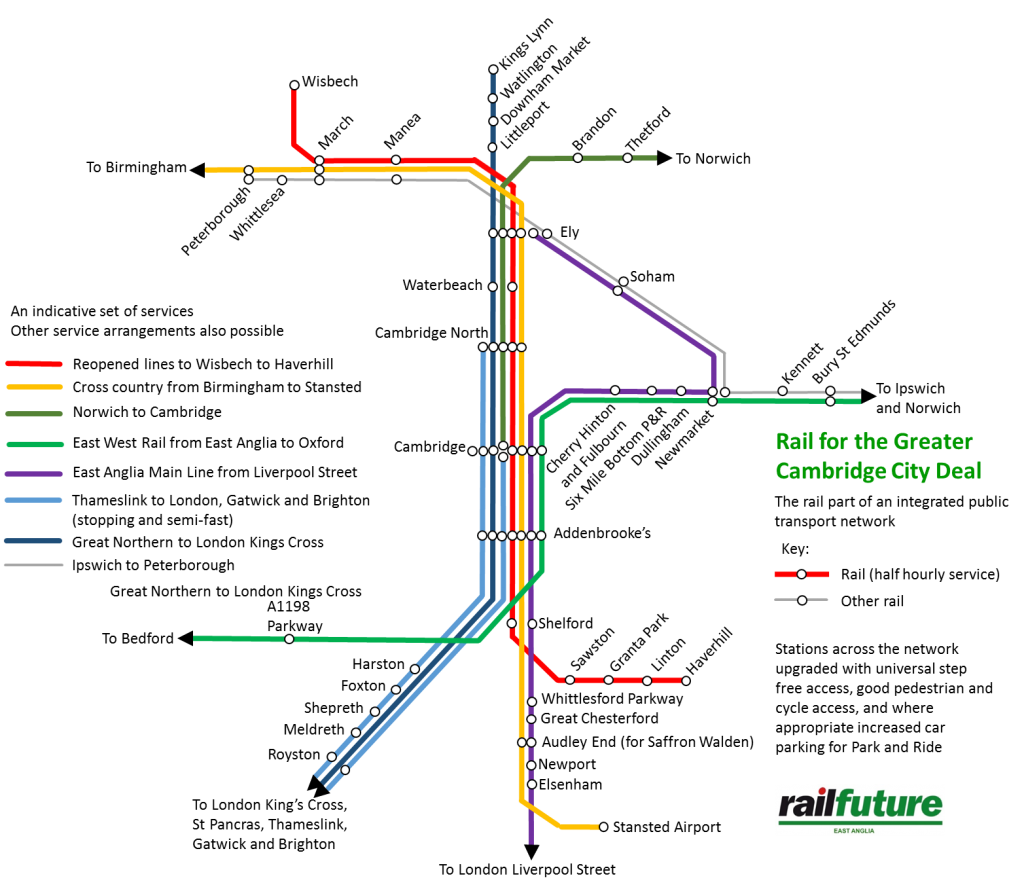 By contrast, this map shows the current network: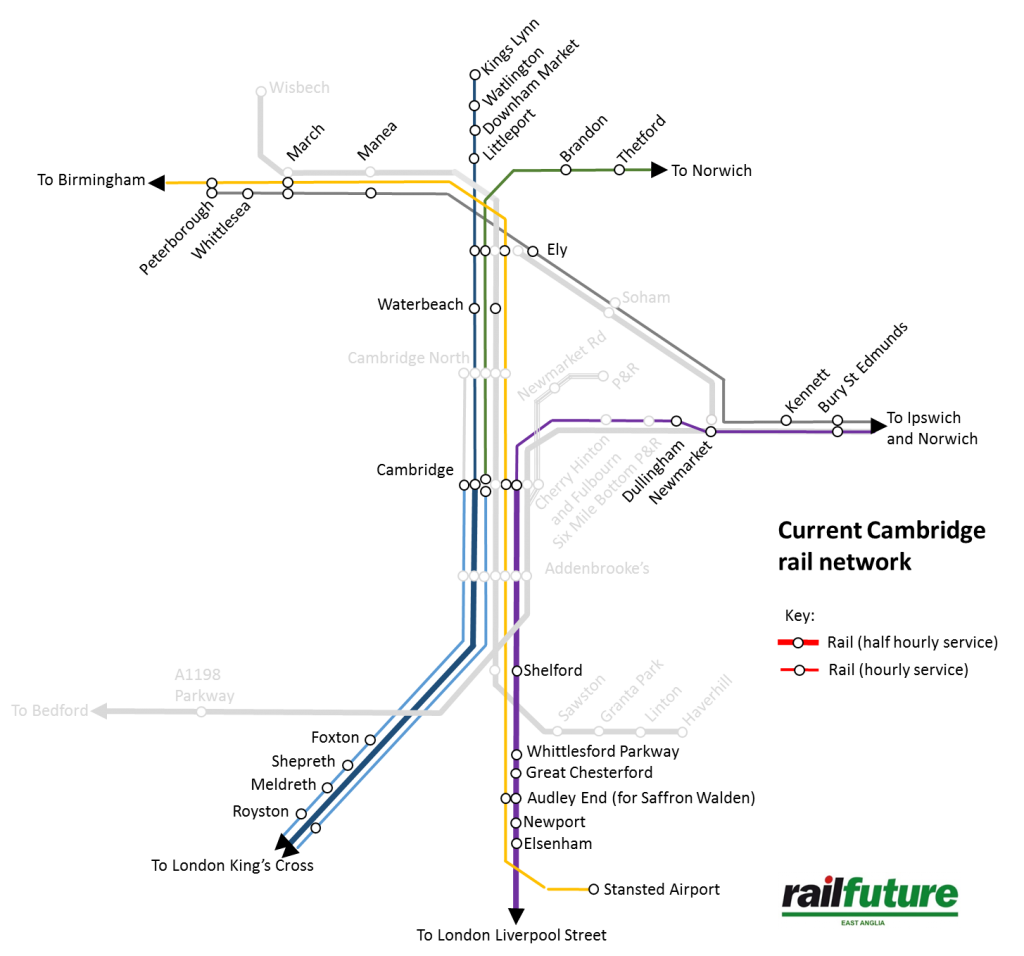 The expanded network would need to be supported by:
Frequent (at least half-hourly) services, seven days a week from early morning to late evening.
Co-ordinated timetabling between infrequent services to avoid long waits for connections.
High quality station facilities.
Excellent connections to stations by bus, cycle and foot.
Sufficient car parking capacity at stations that can catch longer distance traffic.
Multi-modal smart ticketing (i.e. including connecting buses and/or cycle hire).
The region's stations
This is a short survey of existing stations in the Cambridge commuting area, noting positive aspects and areas in need of improvement. We have also included some new stations that would bring rail services within closer reach of large numbers of people.
Cambridge
Cambridge
The main station in Cambridge has been extensively remodelled in recent years. Further changes and expansion are needed to to keep up with growth in demand and to improve access.
Recommendations
Provide an eastern station entrance, giving ticket holders direct access to all platforms. Facilities should include a second ticket office, self-service ticket machines, cycle parking (the required number of spaces will need studying), a taxi rank, and a pick-up/set-down area. This will provide more direct, safe and convenient access to the station for residents living to the east of the railway line, and will significantly reduce the volume of taxi and private vehicle traffic passing over Hills Road bridge.
Gradually reduce the availability of parking as bus links are improved. Some provision might be transferred to the Cambridge Leisure car park, which is under-utilised during the day. This would require an agreement between the Cambridge station operator and Cambridge Leisure to offer train travellers a similar day rate as at at the NCP station car park. This would become an attractive option if and when an eastern entrance to the station is opened.
Provide direct access from the new multi-storey cycle park to the station footbridge, rather than a lengthy walk through the main station entrance.
Incorporate a bus turning circle at one or both ends of Station Place.
Design and sign a segregated cycle route between the Guided Busway and Devonshire Rd/Chisholm Trail to Mill Rd and beyond.
Rearrange Station Square to create a more people-friendly space, less dominated by motor vehicles.
Cambridge North
The new station at Chesterton opened on 21 May 2017. It is linked to the Guided Busway to the west and will be at the northern end of the Chisholm Trail. It has 450 car parking and 1,000 cycle parking spaces. Access to the rail network is greatly improved for north Cambridge, including the various business and science parks, Milton, Fen Ditton, Histon and Impington.
Recommendations
Incentivise a bus operator to run a regular service connecting the station with Orchard Park, Darwin Green, North West Cambridge and West Cambridge.
Plan for adding an eastern access to the station from Chesterton Fen as part of any future development of the area.
Cambridge South
The need for a station at Addenbrooke's to serve the expanding Biomedical Campus is urgent now that AstraZeneca, Papworth and Abcam have moved in, and a new children's hospital is being planned. In 2017, the campus was seeing over 40,000 trips onto the site each weekday. That is forecast to rise to 67,500 daily trips by 2031, based on current plans for the site. Although the Guided Busway provides a fast and convenient service from the existing station, buses will struggle to meet growing demand at peak times.
Building a station here necessitates widening the line up to Cambridge Central to four tracks, probably as part of East West Rail. However, the Combined Authority is pushing for an interim solution in which only loop tracks are added for trains stopping at this station.
Recommendations
Accelerate delivery of the station and access routes for vehicles, cycles and pedestrians. Ideally there will be access from the busway bridge to facilitate interchanging with buses and simplify station access from the west.
Ely to Cambridge
This section of line is common to the Wisbech, Peterborough, Kings Lynn and Norwich to Cambridge services. Increasing rail usage will take commuters off the A10 to Cambridge.
Ely
Ely station has the largest footfall outside Cambridge at 2.3 million per year (2017/18). In many ways it is a model of how a station can support significant levels of commuting to Cambridge. There are good facilities, including a manned ticket office, interchange with bus services, and cycle hire.
Rail links to the north, east and west of Ely all pass through Ely North Junction. Constrained capacity here is severely limiting the scope for increasing service frequencies. Unfortunately Network Rail has indicated that work is unlikely to start beforel 2024. East West Rail offers potential to relieve pressure here.
Waterbeach
The existing station at Waterbeach has evolved into a successful parkway. Waterbeach is seven minutes from Cambridge station, five minutes from Cambridge North, and will be ten from Cambridge South. These are far quicker times than driving. There is a capacity constraint because the platforms can only accommodate four carriages.
Planning consent has been granted for a new railway station about one mile to the north of the existing one. Construction is expected to start once consent has also been granted for the eastern half of the Waterbeach New Town development. In the meantime, platforms at the existing station are to be lengthened to accommodate 8-car trains.
Wisbech to Cambridge
Wisbech
The County Council has published a business case for reopening the Wisbech branch line. The cost is estimated at between £70m and £110m, with a high benefit to cost ratio if capacity enhancements are carried out in the Ely area. Linking 35,000 people in Wisbech with jobs in Cambridge with a 40 minute rail journey (quicker than by road from places much closer to Cambridge) could provide a significant boost to the Cambridge economy.
March
March (population 25,000) currently has a modest level of commuting to Cambridge. This could be enhanced by a much improved service with an increased frequency, late evening trains and Sunday morning trains. The Wisbech service would enhance the connectivity of this town and make it more attractive to live in, and work in Cambridge.
Manea
Manea has recently received a much enhanced rail service, now two-hourly, but this could be increased to hourly to serve the local area, including Chatteris.
Kings Lynn to Cambridge
Downham Market and Littleport
Both these stations have relatively high numbers commuters to Cambridge owing to a reasonably good service. The introduction of a half-hourly off-peak service has been postponed.
Norwich to Cambridge
Thetford
This large town (population 25,000) is on the A11 trunk road and a good place for a park-and-ride site. It is hoped that the hourly direct train service to Cambridge will be enhanced to half-hourly.
Brandon
A medium sized town of (population 9,500), Brandon has one train per hour to Cambridge. With a more frequent service, this could serve well as a parkway station for Cambridge commuters as the A1065 leads to Swaffham, Fakenham and north Norfolk. Footfall at this station has increased rapidly since an hourly was introduced.
Ipswich to Ely and Cambridge
The service from Ipswich to Cambridge is currently hourly, and Ipswich to Ely two hourly. Both these would benefit from a doubling in train frequency.
Soham
Soham (population 10,000) station was closed in 1965. Plans are progressing to reopen the station by March 2022, possibly as early as summer 2021. The station will also serve Fordham (population 3,000). It will be initially be served by trains running between Ipswich and Peterborough. Reinstating the chord north-east of Newmarket would enable a direct service to Cambridge via Newmarket.
Recommendations
Commission a business case for reinstating the Newmarket link.
Bury St Edmunds
Bury St Edmunds (population 41,000) has seen growth in the number of travellers to Cambridge, which is now about equal to the number travelling towards Ipswich. Improved passenger facilities on the Cambridge-bound platform and a half-hourly service will make this town very attractive for the Cambridge workforce.
Kenett
This station is served with a two-hourly service alternating with Dullingham. Its large car park is however well used. The station serves the large modern estates at Red Lodge (population 4,000) on the A11, 1.5 miles to the north.
Recommendations
Commission a study into whether Kennett has greater potential as a parkway station, serving Mildenhall.
Newmarket
Newmarket (population 20,000) is similar in size to Ely, but has only 15% of the footfall. The station is unstaffed, has a small car park and poor facilities; and rail services to Cambridge are only hourly. Increasing rail usage by commuters and pupils at Cambridge's private schools will relieve the A14 and Newmarket Road.
Dullingham
Dullingham serves the nearby village but also acts as a railhead for the surrounding area. A particularly high number of private school and sixth form college students travel by rail from here to Cambridge. This is an unsung hero of a station which keeps many car journeys out of the city.
Six Mile Bottom
A new parkway station would have good access from the A11 and A14 east, with a potential to relieve congestion on the A14 and Newmarket Road.
Recommendations
Commission a business case for building a new parkway station at Six Mile Bottom.
Fulbourn and Cherry Hinton
There used to be stations at Cherry Hinton and Fulbourn but these closed in the 1960s. A new station between Cherry Hinton and Fulbourn would be nine minutes from Cambridge Central and twelve minutes from Cambridge South station. It would serve a population of around 18,000: Fulbourn (population 4,700), adjacent to the large former medical facility now being redeveloped as a business park; Teversham (population 2,700); Cherry Hinton (population 8,800), also home to large employers, including ARM Holdings, which will soon employ 5,000 people; plus 1,200 new homes planned to be built between Cherry Hinton and Teversham.
A possible location could be at the point where Fulbourn Old Drift used to cross the railway line, providing good connectivity to all three villages.
Recommendations
Commission a business case for building a new station.
Haverhill to Cambridge
Haverhill, Linton, Granta Park and Sawston
The Haverhill line, via Linton, Granta Park and Sawston would relieve congestion on the A1307 corridor, and connect a large population of over 30,000 with Granta Park, the nearby Barbraham Research Campus, Cambridge, and the national rail network.
Recommendations
Jointly-commission with Suffolk County Council a feasibility study and, if appropriate, a business case for re-establishing this rail link.
Stansted and Audley End to Cambridge (Liverpool Street line)
Audley End
This station serves Saffron Walden (population 15,000) and a wide area of north-west Essex. Its footfall is very high, mainly travelling towards London. It already has one of the largest station car parks in East Anglia. There is a frequent train service towards Cambridge of at least 4 trains per hour. An improved cycle path has just been completed to connect with Saffron Walden, 1.5 miles away.
Recommendations
Commission a study into whether the size of the car park is constraining demand, and whether more attractive pricing for season tickets to Cambridge stations would attract more commuters.
Great Chesterford
A small village but has a good service of two trains per house in peak. These trains are particularly well used by employees travelling from Cambridge and elsewhere to Hinxton Hall Welcome Trust Genome Centre, and who cycle the mile or so from this station.
Recommendations
Commission a study into the viability of making Great Chesterford a parkway station, complementing and relieving demand at Whittlesford.
Whittlesford Parkway
This station serves large villages of Whittlesford, Duxford and Sawston, as well as (rather poorly) the Imperial War Museum. A medium-sized car park serves mainly London-bound commuters. Some people cycle from the station to Hinxton and Imperial War Museum. There is a frequent service of three trains per hour.
Recommendations
Encourage improved local bus services to nearby villages and the Imperial War Museum.
A high and growing footfall but needs work to encourage more Cambridge traffic off road.
Shelford
This station is served by a good peak service of at least two trains per hour and is seeing increased footfall. There is no parking provision.
Recommendations
Provide better quality cycle parking.
Royston to Cambridge (King's Cross line)
The service from Royston to Cambridge, running parallel with the A10, serves a population well in excess of 25,000. Overcrowding and low frequencies (two four-carriage trains per hour at peak times) are suppressing demand. The Thameslink upgrade will bring longer trains and a minimum of four trains per hour, which should improve matters, but current plans do not guarantee a half-hourly, all-day service to the intermediate stations (Meldreth, Shepreth and Foxton).
Recommendations
Meldreth requires step-free access to the London-bound platform.
Being located on the A10, Foxton would be a good location for a bus interchange and parkway, encouraging bus-and-train and park-and-train from Barrington, Fowlmere and beyond. Enhanced cycle and pedestrian access from Barrington should be considered too.
A station at Harston would also serve Hauxton, Newton and Haslingfield.
Bedford to Cambridge (Oxford-Felixstowe line)
The East West Rail proposal is to re-establish a rail line from Bedford to Cambridge, as an extension to the already agreed reopening from Oxford to Bedford. The first section, from Oxford to Bicester, opened in autumn 2015. The earliest likely completion date for the Bedford–Cambridge link is 2024.
Two route options are currently being considered from Bedford:
Northern corridor, passing through the area between Sandy and St Neots along a new alignment to Cambridge.
Southern corridor, via Hitchin and joining the Great Northern (King's Cross) line to Cambridge.
A northern route via St Neots and Cambourne would provide the greatest economic benefit to Cambridgeshire. Planned housing developments in St Neots, Cambourne and Bourn Airfield (totalling 8,700 additional dwellings), will add considerable demand to the road network. A rail line would provide a fast and convenient alternative to driving, relieving congestion on the A1303 (and likely future congestion on the A428, once it is dualled between the A1 and Caxton Gibbett), and direct access to two of the city's major employment centres: Addenbrooke's and the Science Park.
Last updated: 1 September 2019