Summary
It is our view that:
The correct location (of the three options originally proposed) has been selected.
The station is being designed with insufficient capacity for the likely volumes of pedestrians, cycles and cars that will be accessing and leaving on the east side.
The station design offers no room for future expansion.
The inputs to the station-use modelling (anonymised and aggregated) should be made available for scrutiny and debate.
The user experience of the station will be poor, with long walking distances and congested access to and within the station.
Access For All objectives for station design are not being met because the bus stops are too far from the station platforms.
The two-entrance design requires a duplication of facilities and more staff than a single-entrance design.
Car access to the station will worsen congestion on approach roads, and create unacceptable levels of conflict between motor vehicles, pedestrians and cycles at the junction with Francis Crick Avenue.
The design for the station access road junction with Francis Crick Avenue does not allow for the busway entrance lane having a wider splay so that buses and future CAM vehicles can turn left into it.
We continue to recommend:
Build the station ticket hall above the tracks (as illustrated in Figure 3).
Rebuild the busway bridge connected to, and at the same level as, the station.
Include a bus station on top of the bridge immediately in front of the main station entrance.
As part of rebuilding the bridge, widen the non-motorised user path, segregate it for pedestrians and cycles, and separate it from the busway by a buffer strip.
Locate the cycle park behind (south of) the ticket hall with its own entrance to the station, and connected directly to the cycleway on each side of the bridge.
We now also recommend the station does not include a taxi rank or private pick-up/drop-off area, only parking bays for disabled people, railway workers and deliveries.
Comparison of proposals
Network Rail
Demand modelling yields a too-low forecast
The modelled capacity requirement of 1.8 million annual entries/exits at the station is well below other forecasts.
Smarter Cambridge Transport
Model the desired future
Modelling commissioned by the Greater Cambridge Partnership yielded a figure of around 3.8 million entries/exits per year.
Taking into account the Greater Cambridge Partnership's ambition to reduce city traffic potentially yields a station demand of 9 million entries/exits by 2031.
The climate emergency (and, legally, the Climate Change Act) requires a model that is compatible with the Paris Agreement.
Network Rail
Eastern entrance to the station is too constrained
The eastern station entrance looks to be too narrow to accommodate safely the likely peak flows of pedestrians, cycles and cars.
Smarter Cambridge Transport
Build station ticket hall above the tracks
A single, large station ticket hall with a wide entrance at the front for pedestrians and bus users, and at the back for cyclists, ensures the station can accommodate large flows of people.
Network Rail
Station design offers no room for growth
The site is highly constrained, with no room for future expansion without intruding further into Hobson's Park (which is, any case, not the side that will see the greatest passenger throughput).
Smarter Cambridge Transport
Build station ticket hall above the tracks
Space above the tracks is practically unlimited, allowing for a generous provision of space now. Future expansion can be achieved relatively straightforwardly by extending the deck above the tracks.
Network Rail
Bus stops are too far from the platforms
Some passengers will find themselves walking 450m from their train carriage to the bus stop.
Smarter Cambridge Transport
Build bus station outside station entrance
Rebuilding the busway bridge makes it possible to have a bus station immediately in front of the railway station entrance, out of the way of traffic and ambulances on Francis Crick Avenue. Combined with moving the platforms (next point), maximum walking distances are halved.
Network Rail
Walking distances from train to station entrance are long
Having the entrance at one end of the platforms maximises the distances passengers have to walk along the platforms.
Smarter Cambridge Transport
Move platforms to the north
Rebuilding the busway bridge allows the platforms to be built further north with access in the middle. This halves average walking times for passengers.
Network Rail
Platform stairs will be congested
Platform access is limited to a single staircase. With 10- and 12-car trains calling frequently, congestion will be unavoidable, which will frustrate people trying to catch a train.
Smarter Cambridge Transport
Move platforms northward with access in the centre
This configuration enables provision of two back-to-back staircases between the ticket hall and platforms, doubling throughput.
Network Rail
No room for future expansion
The highly constrained site on the eastern side leaves no space to widen footways, expand the ticket all, or add cycle parking spaces.
Smarter Cambridge Transport
Build station ticket hall above the tracks
There is no limit on the space available for the ticket hall and cycle park, so it can be sized to accommodate future expansion, and extended if and when necessary.
Network Rail
Congestion on Francis Crick Avenue likely
Given the high and growing levels of vehicle traffic already (pre-COVID) accessing the Biomedical Campus from all directions, additional traffic generated by the station will further exacerbate congestion.
The very small pick-up/set-down area (6 bays) is likely to be continuously full at peak times, with waiting cars tailing back onto Francis Crick Avenue.
Both of these factors will impede buses and ambulances.
Smarter Cambridge Transport
No taxi rank or pick-up/drop-off area
The design of the station and connecting bus services should make it unnecessary for private cars and taxis to pick up or set down at this station. The sole exception is for Blue Badge holders. Cambridge and Cambridge North stations will continue to serve people needing to access a station by car.
If only a few vehicles (Blue Badge holders, delivery vehicles and railway workers) turn into and out of the station access road, and a no-waiting Traffic Regulation Order is enforced, the station should cause no worsening of road congestion.
Network Rail
Junction with Francis Crick Avenue is highly conflicted
The addition of a station access road almost adjacent to the busway junction creates a confusing and dangerous complexity of movements of pedestrians, cycles, buses, taxis, private vehicles and ambulances in a small area.
Smarter Cambridge Transport
No taxi rank or pick-up/drop-off area
Limiting access to walking, cycling and bus avoids creating new conflicting movements at the pedestrian/cycle crossings.
If the station access road is for use by only a small number of vehicles (Blue Badge holders, delivery vehicles and railway workers), it does not need to integrate with the busway junction traffic lights and the entrance can be located further south.
Network Rail
No dedicated provision for patient shuttle bus
The pick-up/drop-off area does not include dedicated provision for the patient shuttle bus, used by people with impaired mobility.
Smarter Cambridge Transport
Patient shuttle bus can run from the bus station on the bridge
The shuttle bus can have a dedicated bay in the bus station in front of the main entrance to the railway station.
Network Rail
Western entrance will be underused
Most passengers will be using the eastern entrance (to access the Biomedical Campus), meaning facilities and railway staff will be underemployed in the western ticket hall.
Smarter Cambridge Transport
Build station ticket hall above the tracks
Having all station facilities and staff in one building ensures they will be employed efficiently.
Network Rail
Busway entrance lane has too narrow splay
Buses approaching from the south will not be able to turn left into the busway. Widening the splay could have ramifications for the location of the pedestrian crossings and traffic lights.
Smarter Cambridge Transport
Widen the splay of the busway entry lane
The splay of the entrance lane to the busway can be widened as part of rebuilding the bridge and widening the ramps.
Network Rail
Western ticket hall and cycle park takes land from Hobson's Park
A western entrance is proposed in an attempt to balance demand.
Smarter Cambridge Transport
Build station ticket hall above the tracks
No land beyond what is needed to accommodate the platforms and tracks is needed on the west side of the station.
Network Rail
Unwanted urbanisation of Hobson's Park
The approaches to the western ticket hall and cycle park require path widening and lighting to promote the safety of station users. However, urbanising the park in this way should be avoided if at all possible.
Smarter Cambridge Transport
Build station ticket hall above the tracks
There is no urbanisation of the park, only a widening of the existing non-motorised user path alongside the busway, and a short section of elevated cycleway to link the busway bridge with the cycle park.
Recommendations
Governance
We appreciate the efforts that have been made to communicate and explain the plans to local organisations. However, the process by which the proposal came about is opaque and not the result of two-way dialogue with stakeholders. The report on the first consultation has not been published, so we have no indication of what ideas were accepted or why other ideas were rejected.
There is an extraordinary number of official stakeholders, none of which is good at communicating with the general public, yet alone with each other. The governance boundaries (e.g. between Network Rail, combined authority, county council and the Greater Cambridge Partnership) seem to frustrate everyone. No single body has an overarching strategy or plan for the station as a fully integrated transport hub.
We are deeply concerned that decisions are being made "by the book" rather than with a broad and clear view of the social benefit this station should deliver to current and future generations.
We urge the Combined Authority to set up a steering group of stakeholders so that the process of specifying, designing, integrating and monitoring the development of this station is properly informed and openly scrutinised.
Station capacity
We understand that the design capacity of the station is currently based on a modelled forecast of 1.8 million entries/exits per year within the first few years of operation. That is just 15% of the throughput at Cambridge station in 2018/19, and just over double the throughput at Cambridge North, where patronage grew 66% from the previous year.
We believe that the minimum design capacity should be 9 million entries/exits per year.
The Biomedical Campus Transport Needs Review Part 3 forecast in the region of 3.8 million entries/exits in 2031, based on committed development in 2018. That figure should be taken as a lower bound. Other factors to take into consideration include:
Development plans for the Biomedical Campus not included in the Biomedical Campus Transport Needs Review Part 1, such as the planned cancer and children's hospitals
East West Rail
Cambridge South East Transport link (CAM)
The Greater Cambridge Partnership's ambition to reduce traffic levels in the city by 10–15% of 2011 levels (see Figure 1)
The urgent need to de-carbonise transport through modal shift from private cars to active and public transport
The urgent need to reduce toxic air pollutants from motor traffic.
The forecast in the Biomedical Campus Transport Needs Review Part 2 is for 67,500 weekday person-trips entering the Campus in 2031. That equates to 135,000 trips/day in either direction. Aggregated over 253 working days, that is 34 million trips/year. No estimate is given for weekend traffic, but if we assume this is 20% of weekday traffic (principally hospital staff, visitors and some outpatient appointments), that adds another 3 million trips/year, giving an annual total of 37 million.
The Greater Cambridge Partnership (GCP) has an objective to reduce motor traffic by 10–15% on 2011 levels (Cambridge Access Study, paragraph 12), which equates to 25% on 2019 (pre-COVID) levels. A reduction by that amount in the 28,475 one-way annual car trips recorded in 2017 would require a further 3.9 million car trips to be made by other modes.
We have assumed there is limited scope to increase foot access to the station beyond the 62% growth already envisaged. We have also assumed that there is more scope to further expand rail and bus than cycle usage because of the wider geographical reach of rail and buses. We have therefore allocated the mode-shifted trips 50% to rail, 30% to bus and 20% to cycling. This yields the mode splits shown in Table 1. From this we have 6.9 million station entries and exits by 2031.
The recorded number of entries and exits at Cambridge station in 2018–19 was 11,983,320. Growth in patronage over the past five years averages 4% year-on-year. At that rate, the number of entries and exits in 2031 could be 20 million. If we assume that 10% (2 million) of those trips shift to Cambridge South, reflecting the greater convenience of Cambridge South for residents in south Cambridge and nearby villages, that would imply the total annual entries and exits at Cambridge South could be close to 9 million in 2031.
Table 1: Mode splits of trips to the Cambridge Biomedical Campus
(tba = to be allocated)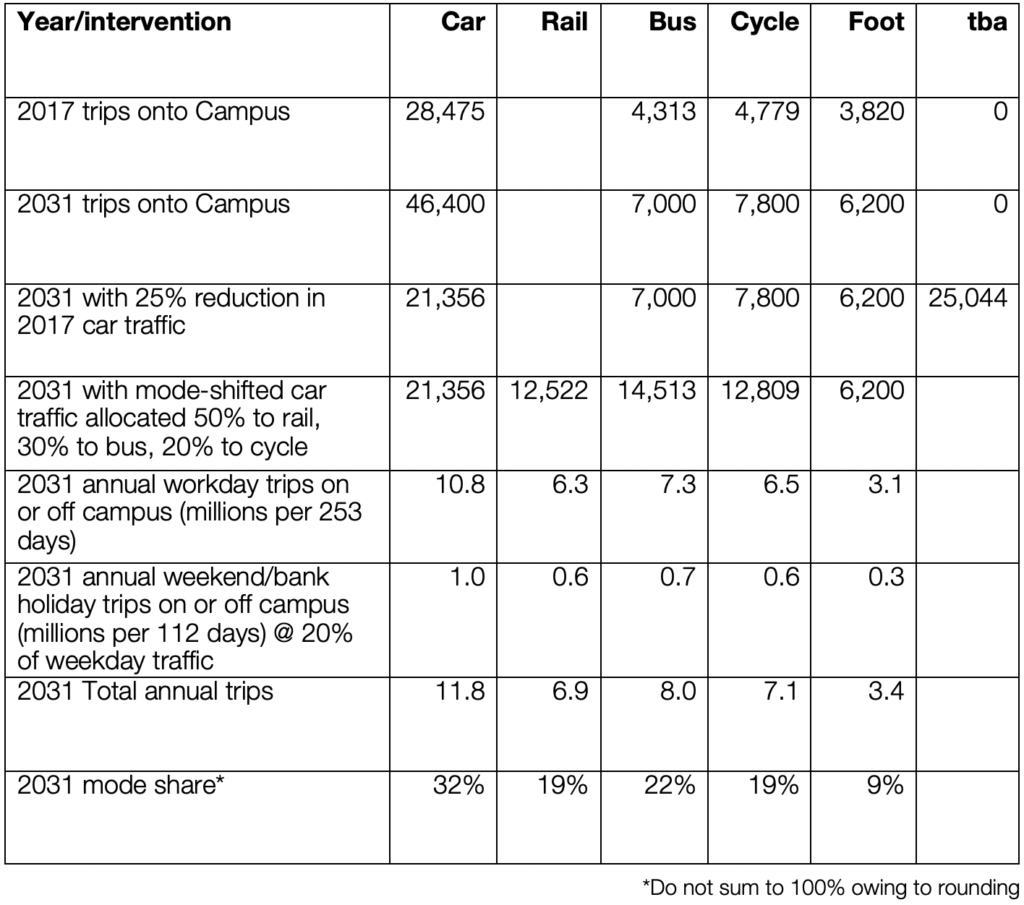 We believe the figure of 9 million entries/exits should be treated as a minimum capacity for Cambridge South station. It is likely that future policies addressing the climate emergency will in fact require a larger mode shift from cars to other modes in order to reduce energy usage and associated carbon emissions.
Accessible bus stops
Anybody who boards a train from London in the rear carriage (closest to the ticket barriers at London King's Cross or Liverpool St) will have the furthest distance to walk when they disembark at Cambridge South. That will include people with reduced mobility. For a 12-car train, the distance to the nearest bus stop is around 450m. Even to reach the nearest pick-up bay, to catch either a taxi or the patient shuttle bus would be a walk of up to 350m. This is beyond the ability of a significant number of elderly and infirm people who will be visiting the hospitals.
The patient shuttle bus is an essential transport service. It needs to be able to pick up and set down passengers close to the station entrance. The current plans provide no dedicated space for it to do so, so it would have to jockey for space with taxis and private cars. This is not an acceptable arrangement.
Cambridge South station will be a key bus-rail interchange with a wide catchment area, potentially extending as far as Soham, Newmarket and Haverhill, all of which could have fast services to the Biomedical Campus as part of the Greater Cambridge Partnership's transport plans. It will also be served by a high-capacity shuttle service from Trumpington Park & Ride, and possibly also Babraham Park & Ride. There will also need to be an enhanced shuttle service between the station and all the hospitals for those with limited mobility.
It is therefore essential that:
Bus bays are close to the station entrance.
Access and waiting areas create minimal conflicts between pedestrians, cycles and buses.
There is sufficient space for at least two bus bays in each direction.
There is a dedicated space close to the station entrance for a patient shuttle bus.
Shuttle buses are able to turn around with minimal delay.
High capacity access on foot
As the vast majority of movements to and from the station are likely to be by foot and cycle, access routes on the east and west must be wide, with clear separation of modes to minimise conflicts.
Figure 3 illustrates how the busway bridge could be rebuilt with sufficient width to accommodate the busway, bus bays for services in both directions, and a wide pedestrian area to access the station. The ticket hall would sit above the tracks, fronting northwards onto the pedestrian/bus overbridge.
The shared foot/cycle path on both approaches to the bridge are too narrow and conflicted for the numbers of people who will be using them in future years. We therefore suggest that, as part of rebuilding the bridge, the non-motorised user path is widened and segregated, with a buffer strip between the footway and busway to minimise the possibility of someone falling in front of a bus.
As a relatively high proportion of the people making the approximately 600m connection between the station and Addenbrooke's Hospital are vulnerable or have reduced mobility, great care must be taken in designing the pedestrian route. At a minimum it should be covered, and ideally enclosed to make it weather-proof (from rain and intense sun) and comfortable.
Consideration should be given to elevating the walkway above Francis Crick Ave and Robinson Way, and possibly to including a travellator, which could reduce the number of shuttle buses needed to meet peak demand.
Cycle parking
Many people will be walking and cycling from Queen Edith's, Trumpington, Grantchester, Great Shelford, Little Shelford, Cherry Hinton, Teversham and Fulbourn. There may also be a significant number of people cycling out from this station, to local employment sites and schools. There is therefore likely to be a large and growing demand for cycle parking. That requires a flexible design and space to expand.
The current station plan provides no room for expansion beyond 1,000 parking spaces, with only about 500 at the busier eastern station entrance. Because of the constrained space, we understand that most of the cycle parking will be provided as double-stacked racks, which many people find difficult and intimidating to use.
Cambridge station currently has around 2,800 cycle parking spaces, and Cambridge North, 1,000. Utrecht in the Netherlands now has 12,500 cycle parking spaces at its main station. It is reasonable to expect that something like this number will be needed across Cambridge's railway stations within ten years, as local and national policies encourage modal shift to cycling. See Figure 1 for the vision for the Greater Cambridge Partnership City Access Programme, and the government's Gear Change report, setting out "a travel revolution".
Figure 3 illustrates how cycle access to the cycle park could be via link bridges between the cycleway on the busway bridge and a track running over the tracks behind (to the south of) the ticket hall. This would remove conflicts between cycles, pedestrians and buses around the main entrance. A flat deck would extend southwards over the platforms to accommodate all the cycle parking in one location. This could be covered by a lightweight roof with integral solar panels and solar tubes to pass light through the deck to the platforms. This arrangement for cycle parking would enable easy access for people of all abilities. The space, being open-plan, would feel safe and airy, and would have direct, level access to the ticket hall.
It is essential that there is generous provision for parking 'off-gauge' cycles (cargo, trailer, tricycle and hand-cycle). All cycle parking racks must be secure, theft/vandal-proof and monitored by CCTV. Lessons must be learnt from Cambridge and Cambridge North stations.
Motor vehicle access
It is critically important for patients being taken by ambulance to A&E that Addenbrooke's Road, Francis Crick Avenue and Robinson Way are not allowed to become congested. Congestion already (pre-COVID) occurs at peak times. Ongoing and planned development in the area (on the Biomedical Campus, at Trumpington Meadows and off Worts' Causeway) will further increase traffic and congestion.
The choice of fast services and destinations from Cambridge South will make it an attractive alternative to Cambridge station for many people living in the south of the city, and in villages to the south and east, potentially as far as Soham, Newmarket and Haverhill. If people are able to drive or take a taxi to the station, many will.
We have therefore concluded that this station should be accessible by foot, cycle and bus only. The sole exception would be parking bays for Blue Badge holders. We believe that, rather than making space for cars, the station should be closely integrated with wide and unconflicted footways and cycleways, and bus stops for all services that call at the station, including those planned as part of the Cambridge South East Transport link.
People needing to drive will still be able to use Cambridge and Cambridge North stations, which both have car parking and pick-up/drop-off areas. To ensure that informal pick-up/drop-off does not create an obstruction, we recommend that:
The current Traffic Regulation Order (TRO) prohibiting through-trips remain in place.
Francis Crick Avenue have a no-waiting TRO, regularly enforced.
There are likely to be drop-offs beyond Francis Crick Avenue, for instance on Robinson Way, Addenbrooke's Rd, Long Rd, Lime Ave (Aura development) and Knightly Ave (Ninewells development). The situation should be monitored and additional parking/waiting restrictions applied where required.
Platform configurations
Although Network Rail's priority will be to seek the most operationally efficient track configuration, we want due consideration to be given to the passenger experience. In particular, we would like the platform configuration and service allocation to facilitate cross-platform interchanges for common journeys, e.g. Cambourne or Royston to/from Stansted Airport. Making tight north-south connections via an overbridge (as at, for instance, Stevenage) can be tricky, especially with luggage or young children.
Figure 1: Extract from the vision agreed for the Cambridge Access Study (Greater Cambridge Partnership, June 2016)
Greater Cambridge Transport Vision and Objectives
11. The transport vision for Greater Cambridge (the vision) is that it should be easy to get into, out of, and around Cambridge by public transport, by bike and on foot.
12. To achieve this, the aim is that despite the anticipated growth in journeys of about 30% by 2031, there will be a reduction in peak hour vehicular traffic of 10-15% from 2011 levels. This reduction is broadly equivalent to the reduction in traffic that is seen in the morning peak period when schools are on their half term break.
13. The Greater Cambridge City Deal's transport strategy objectives (the objectives) are:
To ensure transport in Greater Cambridge supports economic growth and the continuation of the Cambridge Phenomenon
To bring about a step change in the quality and reliability of public transport in Greater Cambridge by tackling congestion, investing in the infrastructure needed for quicker, more reliable public transport journeys and working in partnership with public transport providers.
To reallocate road space to public transport, cycling and walking to encourage journeys using these modes and reduce traffic volumes.
To encourage continued growth in the numbers of people cycling in and into Greater Cambridge.
To use the opportunities that road space reallocation, congestion reduction, and infrastructure projects offer to improve air quality, the public realm and the historic and natural environment.
Figure 2: Network Rail proposed design for the station access road junction with Francis Crick Avenue. Note that this design does not allow northbound buses to turn left onto the busway.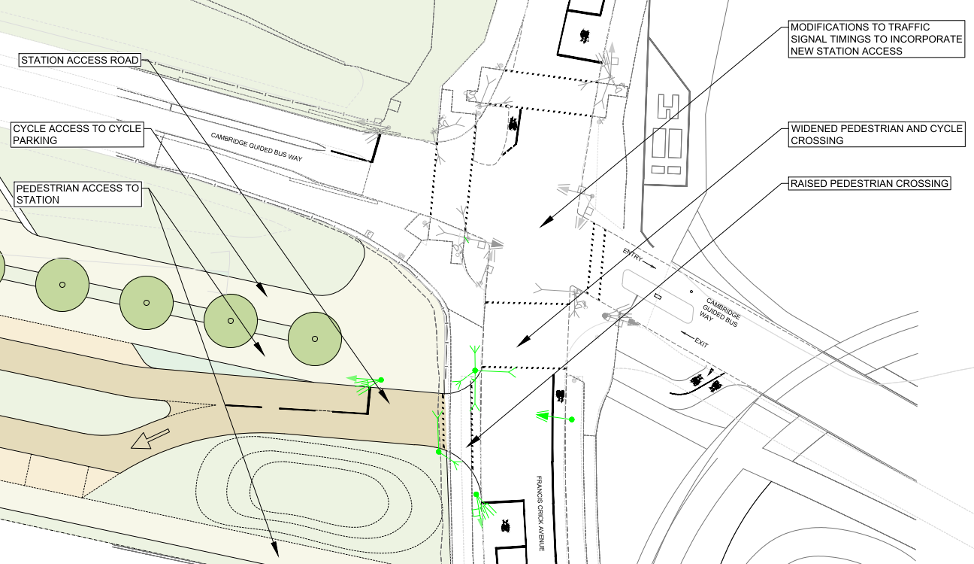 Figure 3: Schematic representation of proposed station and access arrangements
Figure 3a: close-up of western approach busway and cycleway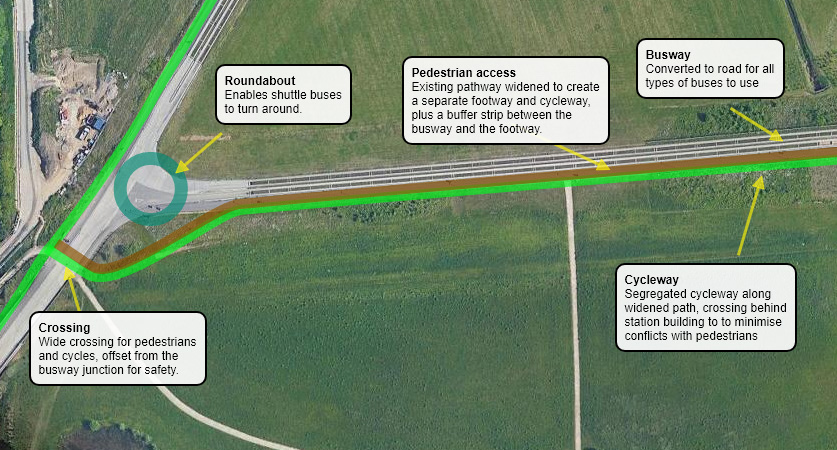 Figure 3b: close-up of station area