Background
After years of growth, bus patronage is currently in decline, locally and nationally, at a time when train patronage continues to grow. A concerted effort is needed to make bus travel more attractive. Poor reliability, slow and infrequent rural services, not running late enough into the evening, wildly unpredictable delays and cancellations, inconvenient ticketing, unclear and unattractive pricing for occasional trips, inadequate and poorly maintained facilities at stops all contribute to the poor image and experience of bus travel.
Rural bus services traditionally cater mainly for the elderly (who are now eligible for free bus travel) and school children. Park & Ride, Guided Busway and a few other services (notably the X13 Haverhill–Cambridge) break the mould and provide a service appealing to commuters and others who have the option to drive. We should learn from these. We also need services to cater better for city residents.
This requires an examination of bus routing, timetabling, ticketing, and information provision. The aim should be to remove pain points in using buses, and make the experience as convenient and comfortable as possible. Done right, that will start a virtuous circle of greater patronage, leading to more frequent services for longer hours, making them attractive to more people.
For bus operators this means an opportunity for significant growth, giving rise to greater profits. This is the justification they need to invest in new buses and expand their workforce – all of which will be positive for the local economy.
What makes bus travel attractive?
Buses become the transport mode of choice if they are
affordable: typically cheaper than driving and parking
reliable: punctual and very rarely cancelled
flexible: multiple destinations easily reached (see below)
available: runs when needed (see below)
frequent: a maximum wait time of 15 minutes
fast: comparable to driving and parking
accessible: bus stops within easy reach of home and destinations
comfortable: a pleasant experience (see below)
This article examines techniques available to achieve these aims, and how they might be applied in Cambridge and the surrounding region.
Flexible
For bus to become the sole or primary mode of transport for someone, it must be reasonably painless to reach multiple destinations from home: workplace, family, friends, health, retail, leisure. This requires easy and quick interchanging between services at no additional cost. Not having to return to the same location to catch a bus home can make buses more convenient than driving and parking.
Available
It is important that buses start running early enough to get most people to work, and late enough for people to have some flexibility with their work and social plans. Anxiety about missing the last bus home is a strong motivation for not taking the bus at all.
Comfortable
Many factors contribute to comfort: design, cleanliness, ambient temperature, ease of boarding, having sufficient space for pushchairs and luggage, and being able to board early if the bus is waiting at a terminus.
Routing
The key to enabling people to reach multiple destinations is to make interchanging between services quick and easy. This can be achieved in one of two ways:
Hub-and-spoke: Services connect at a specific location ('hub'), usually a central terminus. Preston is a pre-eminent example of this, with a large, purpose-built bus station in the centre of the city.
Ring-and-spoke: Services follow a circular route ('ring') within or around the city, so that interchanging is possible anywhere around the ring. Oldenburg is a pre-eminent example of this, with all bus routes going via the inner ring road rather than the city centre.
Hub-and-spoke works where the bus station is:
well-connected to the road network;
compact, allowing for quick and easy connections;
well-signed throughout.
Cambridge currently uses hub-and-spoke, but fails on all three accounts: the hub is connected to very congested roads (mostly notably Hills Road); it is spread out across several streets, which can be difficult to cross; and signage is poor. There is little spare capacity to increase the number of services, which will present a problem in coming years.
Ring-and-spoke could work well in Cambridge because there is an inner ring road (see Map 1). However, at peak times the inner ring road is heavily congested. Three possible solutions could be considered:
Route all express buses counter-clockwise (so that doors open towards the city centre), with all other traffic required to run clockwise. Put another way, the inner ring road becomes one-way clockwise with a contraflow bus lane (see Maps 2 & 3).
Interrupt the ring road at a few locations with 'virtual bollards' (monitored by automatic number plate recognition cameras) (see Map 4). Access through these points would be restricted to cycles, buses and other permitted motor vehicles (emergency services, and possibly on payment of an annual fee, taxis, and certain low-emission commercial vehicles).
Charge a daily access fee ('congestion charge') for any private vehicle using (or crossing) the inner ring road.
Though option 1 is the more radical, it has clear advantages over option 2:
Maximum reliability: Smart Traffic Management could ensure that all junctions are kept clear, ensuring that buses are unaffected by any congestion. The bus lane would also be clear of stopped delivery vehicles or taxis, eliminating hold-ups.
Simplicity for bus users: changing between express buses would involve a walk no further than the length of one or two bus bays, and would not require crossing the road. Signage can be minimal as the concept is easy to explain.
Any of these options need only apply at peak times. However there is frequently localised congestion outside of regular peak hours, caused by road works, traffic incidents and large events. Therefore, for simplicity and effectiveness, there may be a case for implementing measures all day, or even permanently. An exception to the one-way option 1 might be made for The Fen Causeway during off-peak hours, as there is no close alternative route.
For reasons that will be explained in a future paper on road pricing, we do not actively support Option 3 in the short term.
We therefore favour option 1, but all three should be modelled and analysed.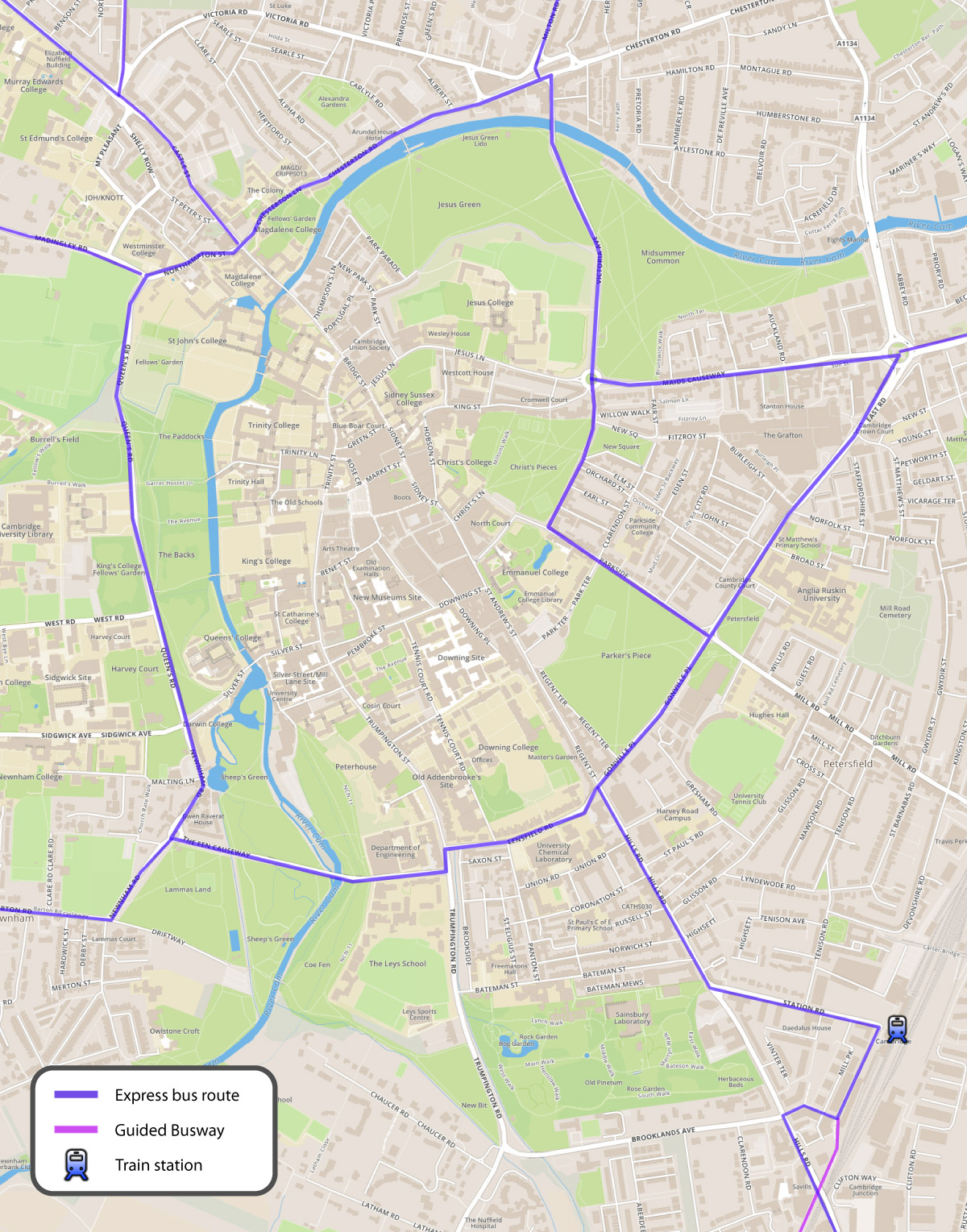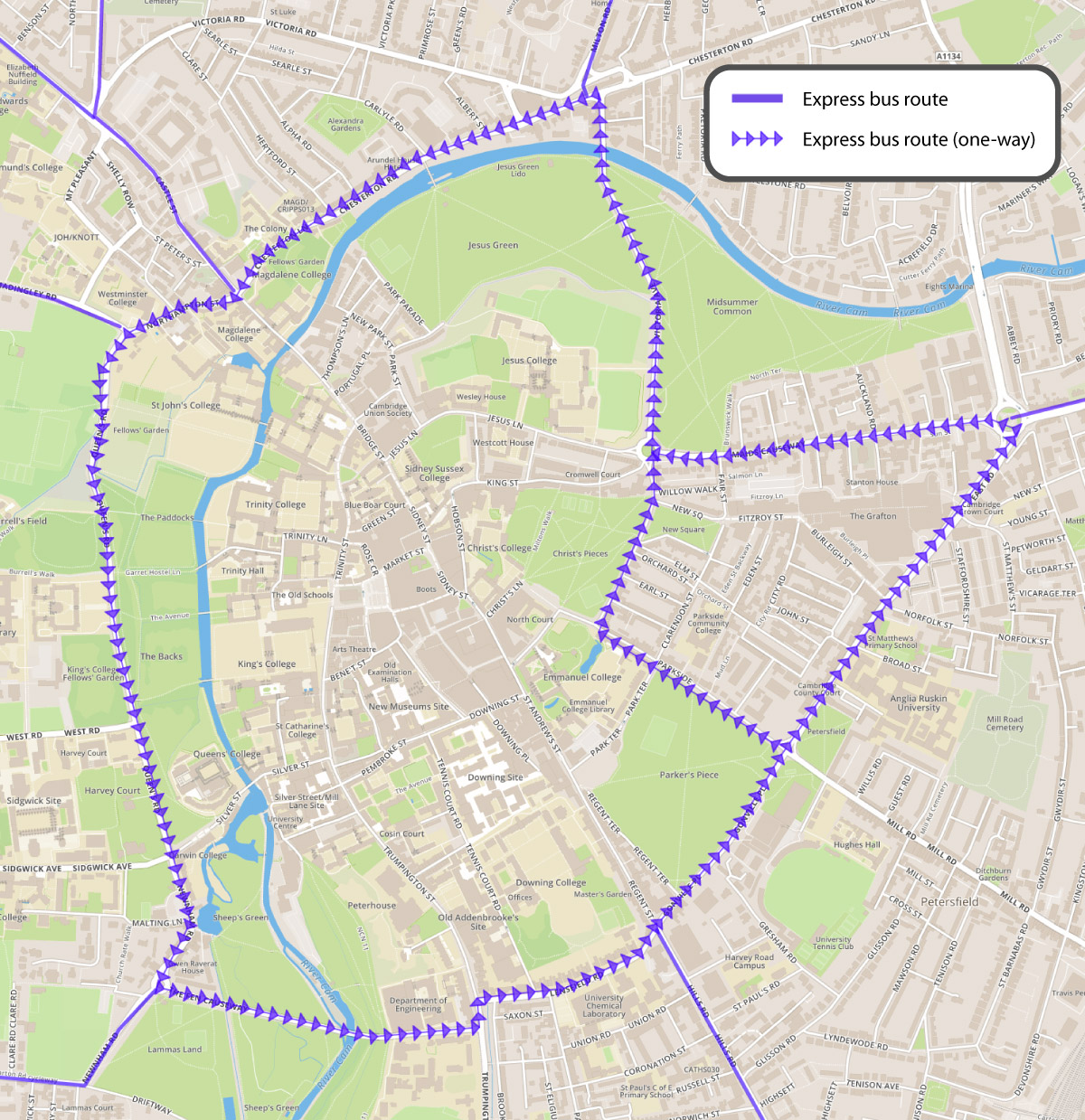 Effect on other motor vehicles
Both of the first two options create a degree of inconvenience for drivers, who will often have to drive a longer way round than now, but the time penalty (which contrasts with the charge penalty of option 3) would be small for most people who have to drive.
The ring road is 6.5km in circumference. Driving at an average speed of 25km/h (16mph), a complete circuit would take 15 minutes. 50% of trips would be unchanged if the ring road were one-way. Only 17% of trips would be 10–15 minutes longer following the ring road, and many of those could be shortened by choosing a different route.
Bus stops will need to be created between each junction with a radial. If each bus stop on the route has three bays, it will be possible to accommodate 180 buses per hour, each stopping for up to one minute.
As long as junctions can be kept clear, buses will not be affected by congestion on the inner ring road. Therefore the one-way restriction for private vehicles may be sufficient to deter private vehicles from using the inner ring road. In other words, point closures of the type used to restrict access to the city centre may not be necessary.
Effect on cycling
Cycling around the inner ring road will always be unappealing and relatively unsafe because of the volume of traffic. The priority should therefore be to enable people on foot and bicycle to cross the inner ring road safely at all junctions, and to develop a continuous network of cycle routes within the inner ring road that obviates the need to cycle on the ring road itself.
Service frequency
Once the maximum wait time to catch a service is under around fifteen minutes (four buses/hour), occasional users no longer need to consult a timetable. For regular users though, a reliable timetable is important if the maximum wait is more than around six minutes (ten buses/hour).
Early departure can lead to missing a bus. Although this is not permitted at 'timed' stops (indeed it can lead to a driver being dismissed), timings at intermediate stops are 'indicative'. On routes with highly variable journey times, it may be necessary to designate more stops as 'timed', or adjust the published timetable appropriately.
Services running fast and direct not only makes them attractive to users, but also means an operator can run more services with the same resources: if an express service covers a route in half the time of a traditional stopping service, the operator can run the service with double the frequency at only a small additional cost.
Types of service
Express services
One of the key features of trains is that they move quickly between widely spaced stops along a direct route, making journey times comparable with driving. This is the model for most medium and long distance bus services, such as the X3 Huntingdon–Cambridge, X5 Oxford–Cambridge, X13 Haverhill–Cambridge, Citi 4 Cambourne–Cambridge.
South Cambridgeshire needs to be served by more express services, calling at conveniently located rural travel hubs, along direct routes into the city. These services should make limited stops on radial roads, and multiple stops on the inner ring road, permitting easy interchange with any other bus service (see ring-and-spoke routing above).
If, say, the Citi 8 were to run express from Cottenham, it could reach the inner ring road in 15 minutes and Emmanuel Road in 20 minutes (instead of 46 minutes currently). This could be achieved by replacing:
eight stops in Cottenham with a one at a rural hub;
fifteen stops in Histon and Impington with one at a rural hub and one at the Guided Busway;
twelve stops in Cambridge with three express stops on Histon Road, one on Castle Hill, and three on the inner ring road up to Emmanuel Road.
Feeder services
Feeder bus services provide a public transport connection between travel hubs and the surrounding area. Unlike local rural services (see below), they do not enter the city, but rather connect people with express services at travel hubs. They serve people who are too far from a travel hub to walk or cycle and do not have access to a car, or who have limited mobility.
Compared with a local service, an express-plus-feeder service will be attractive to a wider audience, in particular to commuters, and will therefore be profitable to run at a higher frequency for more hours of the day.
Although people tell bus operators that they do not like having to change buses, if travel hubs are well designed, with clear information provision, and buses connect reliably, interchanging will be relatively painless and people will quickly appreciate the advantages gained.
Within Cambridge City, a feeder service would serve the city centre and other parts of the city not served by express bus services. Demand for this would mainly come from those with impaired mobility, so a small fleet of midi-buses should provide sufficient capacity.
An example of a viable feeder service would be one that circulates around the A505, connecting travel hubs at:
Whittlesford Parkway (train station)
Sawston
Babraham
Hinxton
with the following destinations:
Imperial War Museum at Duxford
Granta Park
Babraham Institute
Wellcome Trust Sanger Institute
and the following villages:
Duxford
Whittlesford
Pampisford
Little Abingdon
Great Abingdon
Hildersham
Hinxton
Ickleton
An example of a small-scale feeder/shuttle service would be one that circulates the Biomedical Campus, serving:
A1307 bus station
Addenbrooke's train station (when built)
Addenbrooke's hospital
Rosie Maternity Hospital
Businesses and research centres
Long Road Sixth Form College
Local services (rural)
Most bus services run today are local services, following circuitous routes to pass by as many homes and amenities as possible. Because of the time it takes to cover a route, a local service requires more buses (and drivers) than an express service to provide a given frequency of service.
Outside of peak hours, when bus operators do not require most of their buses for express services, it may be possible to run a mix of local and feeder services. However the convenience of a local service in not having to change buses is offset by the lower frequency of service possible (because a local route takes longer to cover). This is perhaps a choice that rural communities could make (through their parish councils in consultation with local bus operators).
It may be desirable to route all local services via the city centre, central train station and Addenbrooke's.
Local services (city)
Within Cambridge there will continue to be a demand for bus services on routes not served by express services (including within the inner ring road) and for stopping services on express routes. However, that demand is likely to decline as express services come on stream, and safer cycling infrastructure is installed. The main users will then be people with limited mobility, with babies and toddlers, or carrying goods, equipment or luggage.
It is therefore anticipated that local city services will be best provided at all times by midi-sized buses. These will have a much lower environmental impact (pollution, noise and vibration), which makes them much more suited to narrow streets in the city centre, Mill Road, Arbury Road, Cherry Hinton High Street, Chesterton High Street, etc.
Community transport
Community transport covers Dial-a-Ride and volunteer drivers using their own vehicles. It already offers a lifeline for people who have no other means of getting about, most commonly elderly and disabled people needing to get to medical appointments and social group meetings.
With the phasing out of local authority subsidies for bus services as part of 'austerity' cuts, the only bus services likely to operate in future will be those that are profitable, or that receive a subsidy from business (to assist their employees – see Works buses below). Therefore it is likely that more and more people will come to rely on community transport.
Community transport requires co-ordination, regulation and some funding. Co-ordination can in theory be managed online in the way that services like Lyft and Uber match drivers to passengers. Regulation is required to check identities of volunteer drivers, run Criminal Record Bureau checks (for clearance to carry children and vulnerable adults), and vehicle roadworthiness. Funding is required to assist social enterprises to purchase and maintain minibuses, and to reimburse volunteer drivers their fuel costs (though in most cases passengers should pay these).
As this is primarily (but not exclusively) a rural issue, it makes sense for community transport to be managed by parish councils, with some financial and administrative assistance from their district council.
Works buses
Large employers sometimes choose to run a bus service for employees who do not have access to convenient and reliable public transport. While this is environmentally desirable, works buses can 'hollow out' the business for commercial bus operators in a similar way to Park & Ride sites close to the city (see the section on Caveats in our paper on travel hubs).
It would be preferable if employers assisted a commercial operator to provide a service available to the general public, subsidising it during unprofitable hours or even providing finance to lease additional buses to increase capacity at peak times (reducing financial risk for the operator).
Since employers in the region currently spend over £1m annually to provide works buses and after-hours taxis for their employees, they have a strong incentive to find more cost-effective ways to assist their employees.
Bus priority
In our paper Can We Do Better Than Bus Lanes? we examined the pros and cons of various methods of giving buses priority over other motor vehicles on congested roads. Research indicates that the effectiveness of bus lanes on existing roads is marginal, and comes at great financial, environmental, social and aesthetic cost.
We concluded that the best way to give buses priority within the city is through a combination of Smart Traffic Management and Inbound Flow Control, access restrictions to divert traffic away from key bus routes (such as the inner ring road – see Routing above), turn restrictions on key bus routes to reduce hold-ups to other traffic, and consistent enforcement of parking and loading restrictions on bus routes.
Bus stops
As discussed in our paper on travel hubs, it is essential that the locations where people wait for and leave buses are convenient and well-connected.
Research by TRL published in 1972 found that "tests showed the advantage of siting [bus bays] right at the junction so that they run into the stop-line. This makes it easier for buses to leave the bus bay and provides some increase in saturation flow; hence, it benefits cars as well as buses." The location is also most convenient for bus passengers because the stop is adjacent to pedestrian crossings. Smart Traffic Management would make this possible, reducing to a minimum delays caused by buses stopping to load and unload.
A thoroughgoing review of bus stops is needed to identify the most suitable locations and appropriate facilities for the level of usage, including a shelter, real-time passenger information, and secure cycle parking. This review could be devolved to Cambridge City and parish councils to assist the County Council in prioritising the relocation, upgrading or refurbishment of bus stops. The review should be ongoing to ensure that facilities (e.g. cycle parking) continue to match demand.
Ticketing
Ticketing needs to be simple and efficient; prices need to be affordable, predictable and reasonably closely related to distance travelled. The current differences in ticket prices and conditions for Park & Ride and 'standard' services is seen by many as confusing and irrational.
Electronic ticketing
Because of the delay ('dwell time') involved in handling cash payments, all ticketing should be electronic (as it is now in London), either using contactless payment card (a credit/debit card or a smartcard issued by the bus operator or local authority) or mobile phone payment. Fares are calculated by when and where a passenger 'taps in' as they board a bus and 'taps out' when they exit. (This differs from London buses, where a flat fare is charged for every journey, and so passengers need only 'tap in'.)
Zones
The simplest way to structure ticket prices is by zones, as with the London Underground. We would like to see three zones in Greater Cambridge:
Zone 1: Cambridge City and necklace villages.
Zone 2: Up to around about 20km from the city centre (the distance of Newmarket)
Zone 3: Further afield
Tickets should be available for travel within zone 1, zones 1-2, zones 1-3, and zones 2-3.
Ticket types
The cost of multiple trips should be automatically capped per day, week, month, half-year and year. This eliminates a source of anxiety in trying to predict what type of ticket will represent best value, and makes bus travel more attractive to people with varying work patterns and locations.
A single trip/fare must, for convenience and fairness, include a free interchange. This can be achieved by permitting a free tap-in within a specified time limit (say, 90 minutes) from the first tap-in. This would be available only for electronic tickets (in part because people could sell or give away part-used paper tickets).
Multi-operator
Ideally, price capping should apply across all operators in the region, including train and pay-as-you-go cycle hire. That requires an independent ticketing system, similar to Transport for London's.
Pollution
One of the great attractions of trams is that they are quiet and non-polluting (overlooking how electricity is generated). However, it will not be many years before untethered buses will be able to run cleanly and quietly on battery power.
The City Council and Stagecoach are currently waiting to hear if they have won a government grant towards replacing the existing bus fleet with hybrid diesel-battery-flywheel-powered buses, which will be able to run cleanly and quietly through the city centre.
The step to fully electric drive systems will be enabled by one of a number of possible inventions:
rapid-charging, high-capacity batteries, which can be charged at bus stops;
a robotic system to change battery packs rapidly;
hydrogen-oxygen fuel cells, with rapid refuelling with hydrogen.
Big versus small buses
A frequent observation is that buses are virtually empty most of the day, and that smaller buses would be more appropriate. An operator buys or leases a fleet of buses that is most cost-effective to meet peak demand. The two main reasons for choosing large (single- or double-decker buses):
About 40% of the cost of running a service is to pay the driver, so the operator seeks to maximise the ratio of passengers to drivers.
The operating costs (depreciation and maintenance) of standard single- and double-decker buses are much lower than smaller buses which are not engineered to the same level of robustness. A standard, heavy-duty bus engine has an expected operating life of around 500,000 miles, compared with around 100,000 miles for a minibus engine.
There is therefore nothing realistically to be done about buses running virtually empty during off-peak hours and against the tidal flow (i.e. leaving the city in the morning, and entering it in the evening).
However, we should acknowledge the heavy toll these buses exact on city roads and buildings, and their contribution to high levels of pollution in the city, especially in narrow streets with high-sided buildings, which trap pollution.
We should aim to exclude buses (and HGVs) over 7.5 tonnes from sensitive city roads such as Bridge St, Round Church St, Park St, Jesus Lane, Hobson St, King St, Emmanuel St, St Andrews St, Park Terrace, Silver St, Pembroke St, Downing St, and Victoria Rd. This can be achieved by our proposals to route express buses via the inner ring road and permit only midi-sized buses on other city routes.
Service information
One of the biggest barriers to bus use is difficulty in obtaining essential information:
what bus to catch at what time at what place;
how to get to the initial bus stop;
where to change buses (if necessary);
which stop to get off at;
how to get to the destination from the final bus stop;
what type of ticket to buy at what cost (and with what restrictions);
how to pay for the ticket;
advance notice and real-time updates about service delays or cancellations;
Bus operators typically expect you to look in many different places for this information, including third-party mapping websites. Stagecoach recently rolled out a much-improved journey planner that accepts postcodes and addresses (but not landmarks). It shows journey options by Stagecoach buses, along with the fares. However, it doesn't 'know' anything about competitor or rail services.
The City Deal Smart Cambridge programme is setting up a data hub to make information about all bus routes, stops, ticket prices, and real-time bus locations publicly available in one place. (This effort will be backed by new legislation when the Buses Bill is passed.) That will enable third parties to build comprehensive apps and websites, hopefully offering similar functionality offered by Transport for London, Citymapper London, 9292.nl, etc.
Added incentives
In addition to the practical measures detailed above, operators can do more to incentivise people to travel by bus, for instance by offering:
Free WiFi on buses and at travel hubs. This means people can work and socialise online without depending on patchy mobile phone coverage.
Group travel discounts (emulating the rail industry).
Special discounts at city museums, shops and other attractions (emulating the rail industry's 2FOR1 offers).
Reduced fares to travel to specific events and festivals that take place during off-peak hours.
Well-publicised promotions to encourage people to try bus travel.