Smarter Cambridge Transport presents the following proposals as more effective and sensitive alternatives to the City Deal proposals for Milton Road and Histon Road. We believe that these will deliver greater benefits for people using sustainable modes of transport, and achieve a better balance between the needs of local residents and those travelling into the city. Evidence for the effectiveness of bus lanes in stimulating modal shift is weak (see Can we do better than bus lanes?), and the negative environmental, social and aesthetic side effects of widening the road to accommodate bus lanes therefore cannot be justified.
General principles
Priorities
Prioritise provision within 30mph and 20mph zones as follows:
Blue light emergency services
Pedestrians and wheelchair users
Cycles and mobility scooters
Buses
Authorised motor vehicles (e.g. taxis and low-emission delivery vehicles)
Other motor vehicles
The purpose of segregated cycling infrastructure is to promote confidence in people of all ages and abilities to walk and cycle without fear; safety and convenience, not speed, are the watchwords.
Pedestrians and cyclists should have priority across all side roads, ideally with the crossing point set back from the main road so that a driver turning left into the side road has a head-on view of anyone crossing.
Space allocation
These 20m-wide street cross-sections show how space should be allocated at various points along a street. The width excluding verges is shown in brackets in the captions. The Highways England Disability Discrimination Act (DDA) Compliance Programme specifies a minimum width of 2m for walkways. Making Space for Cycling (endorsed by national cycling organisations and Cambridge Cycling Campaign) recommends 2.1–2.5m for unidirectional cycle lanes. Lorries are up to 2.6m wide excluding wing mirrors and up to 2.95m including wing mirrors, hence a 3.2m carriageway is preferred to the 3m proposed in the City Deal draft options.
Adding even just one bus lane (3.2m) to the layout entails loss of almost all green space and removes flexibility to adapt the layout to varied road widths: something has to be compromised at pinch points, which means either interrupting the bus lane (which greatly reduces its effectiveness), narrowing the cycle lanes (which make them less safe and attractive, and increases the likelihood of conflict with pedestrians), or compulsorily purchasing people's front gardens (which is deeply unpopular and expensive). Also a widened road is more intimidating for cyclists and pedestrians to cross, and provides a greater social barrier (a problem that was specifically identified about Kings Hedges Road in the City Council's Review of the Orchard Park Development and Lessons to be Learnt for Future Major Developments).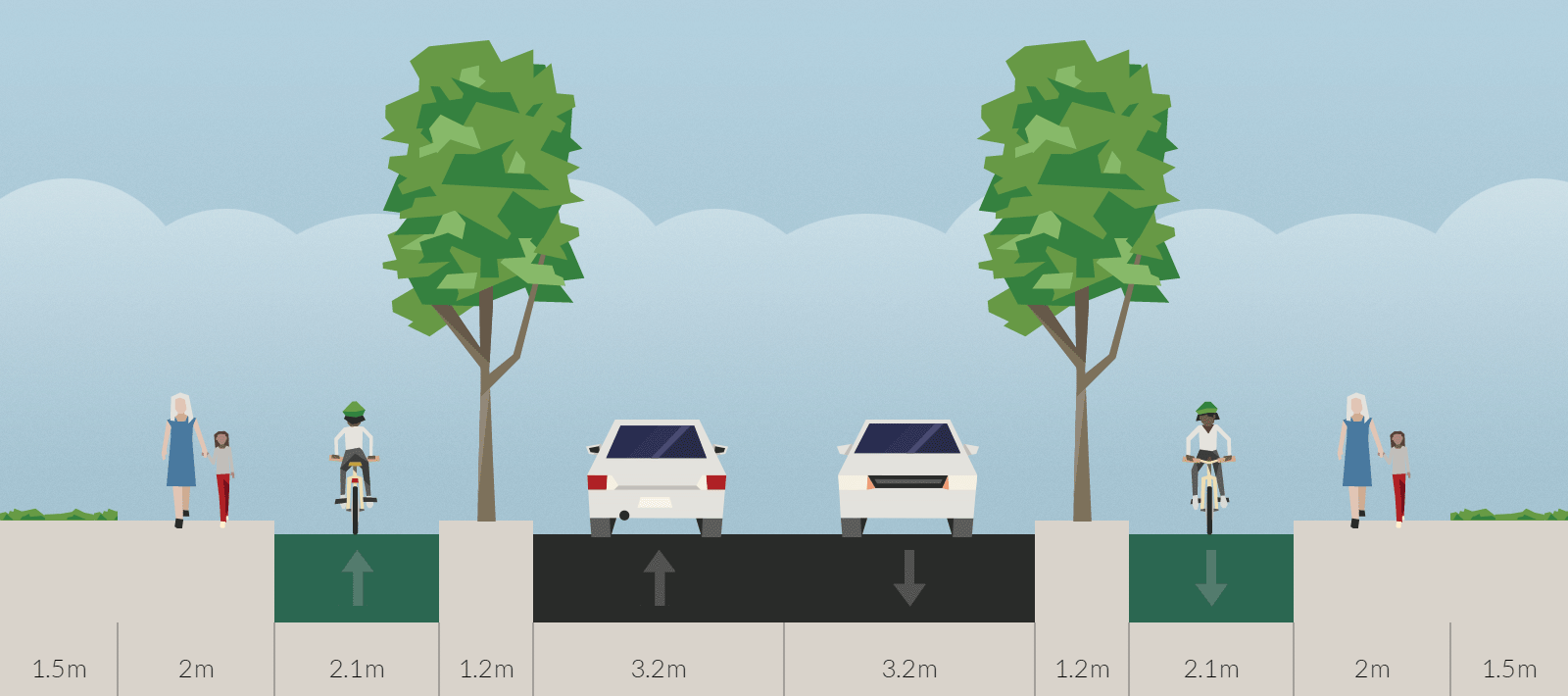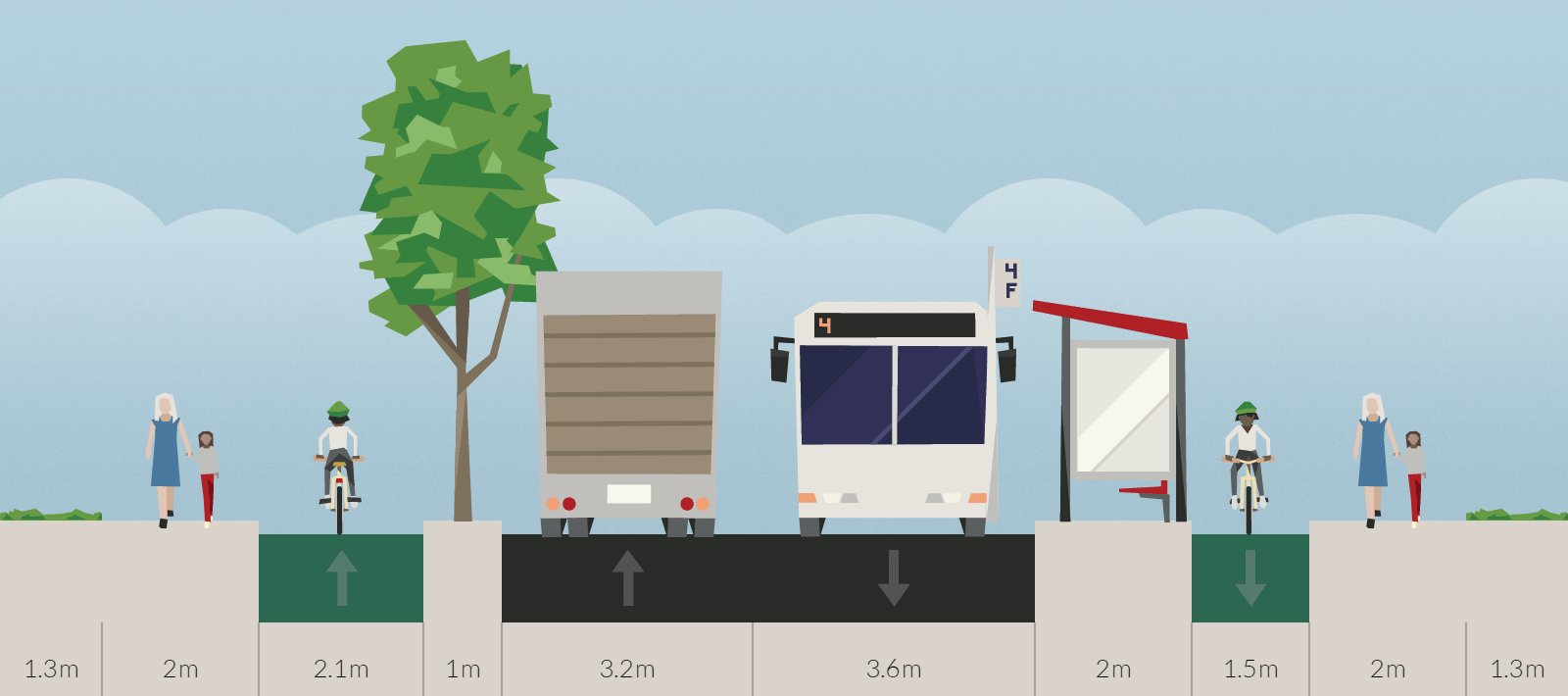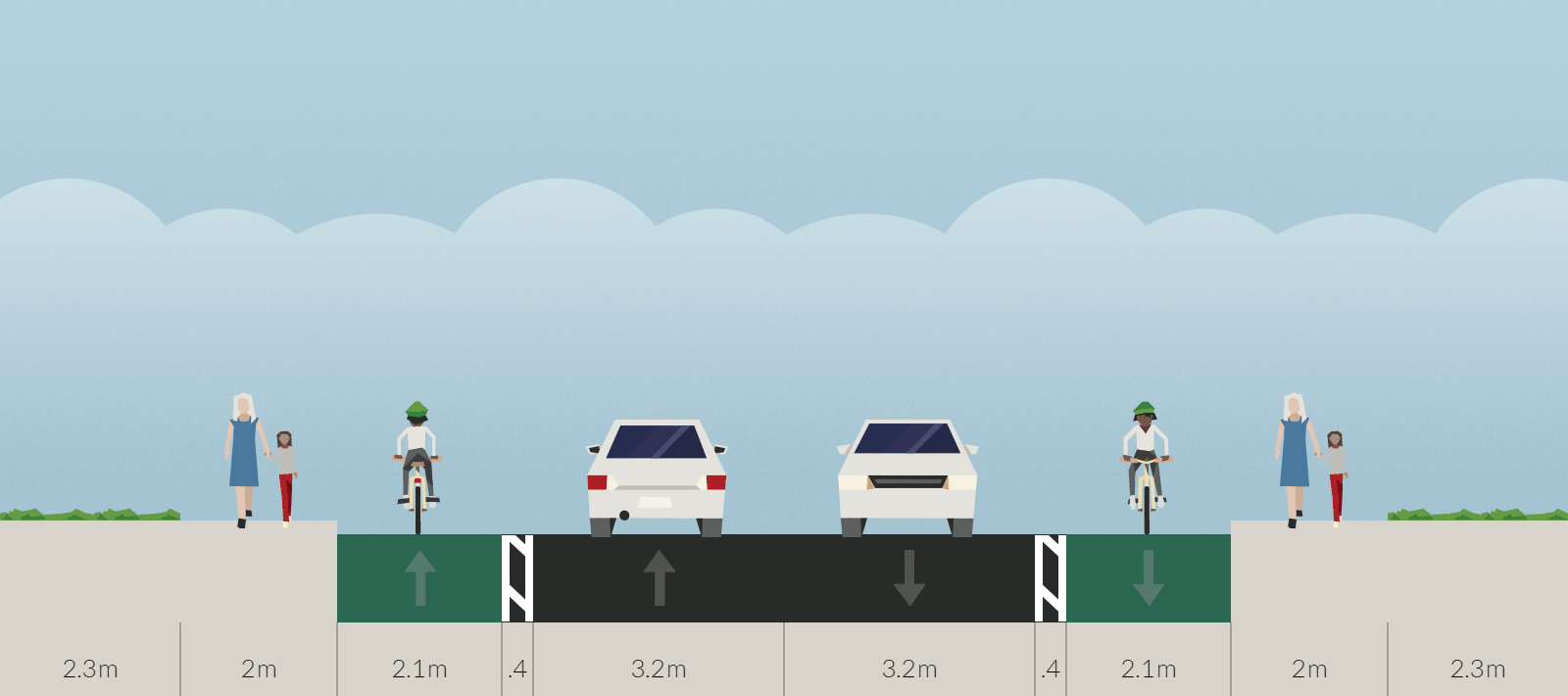 Pedestrians
Provide pedestrian crossings at points of greatest demand.
Ensure that the needs of people with disabilities and using wheelchairs are fully and sensitively catered for, beyond strict compliance with DDA guidelines where appropriate.

Flashing LEDs in roadway at zebra crossing

Clearly indicate at floating bus stops that pedestrians have priority over cyclists. Zebra stripes on the crossing and flashing orange LEDs in the ramp facing oncoming cyclists (as used in the Netherlands) would be effective, but would require special permission from the Department for Transport.
Cycles
Provide high quality, 2.1-2.5m segregated/raised unidirectional cycle lanes in both directions, narrowing to no less than 1.5m for short sections where necessary to minimise conflicts with pedestrians or to preserve valued green spaces.
Consult the local community and Cycling Campaign where there is an established need or reasonable demand to vary this: e.g. to provide a bidirectional cycleway, or where there is insufficient width to provide a safe segregated cycle lane.
Segregate cycle movements through junctions in the way that Dutch or Danish highways engineers would do. Consult the Cycling Campaign on best practice.
Separate the cycle lane from the main carriageway if possible where the speed limit is 30mph, and always where the speed limit is greater.
Where the cycle lane is adjacent to the carriageway, the road speed limit should not be more than 30mph, and not more than 20mph where the cycle lane is less than 1.5m wide.
Concern has been raised that angled kerbstones at the edge of a cycle lane, as used on Hills Road and Huntingdon Road, could cause an accident when slippery: the risk needs to be quantified, and a minimum width determined for raised cycle lanes.
Buses
Conduct market research to determine what potential bus users require, and design commercially-viable bus services around those requirements.
Assist and pressure bus operators to accept contactless card payments ('wave and pay') on their buses to reduce the dwell time at stops, reducing delays for all road users.
Examine with bus operators the benefits and costs of using two-door buses, with a view to further reducing dwell time at city centre stops.
Other motor vehicles
Use Smart Traffic Management and Inbound Flow Control to eliminate congestion on Milton and Histon Roads, enabling buses to flow freely with the traffic and obviating the need for bus lanes.
Provide right-turn filter lanes at junctions where space allows.
Use Experimental Traffic Regulation Orders (TROs) to trial turn and access restrictions, parking controls, and relocating bus stops to improve traffic flow and reduce rat-running.
Parking
Implement parking controls in the city to eliminate commuter parking and free up spaces on side streets for residents.
Remove on-street parking that presents a hazard to cyclists or pedestrians, e.g. where it obstructs sight lines on a corner or junction, or where cyclists are in danger of being 'doored' by an unobservant driver or passenger.
Confirm the accuracy of the street-parking survey to ensure that residents whose parking provision may be removed from Histon or Milton Roads will have access to sufficient parking on nearby side streets.
Where on-street parking is removed, seek to retain short-stay stopping bays for people with disabilities and other residents needing to load/unload close to their home.
If a particular resident will be severely affected by loss of parking, then financial assistance must be provided to help them move house if that is their desire.
Streetscape
Retain the existing verges and trees where possible, and enhance where necessary (e.g. replace poor tree specimens) or where there is an opportunity to provide significant new public amenity.
Narrow unnecessarily wide carriageways and reduce the flare of junctions to create segregated space for cycling and walking and/or to reclaim green space.
Engage the local community in maintaining new planting along the verges (including watering newly planted trees).
Specific interventions
Milton
During the morning peak restrict access from the Tesco roundabout in Milton to the A14 roundabout to buses. This would enable buses from Ely and Waterbeach to travel through Milton, bypassing any queues on the A10 and providing a more frequent service from Milton.
Reopen the Butt Lane junction with the A10 for the following movements:

Left turn onto A10 (to provide an alternative route for vehicles unable to use the Tesco roundabout exit at peak times).
Straight across the A10 for buses only, providing a bypass route for P&R buses at peak times.

'Spare' tunnel under A14 behind Cambridge Regional College

Create a new cycleway (green on map) from the Milton P&R via the 'spare' tunnel under the A14 behind Cambridge Regional College to the Guided Busway at the Orchard Park junction.

Consider creating a busway along the same route.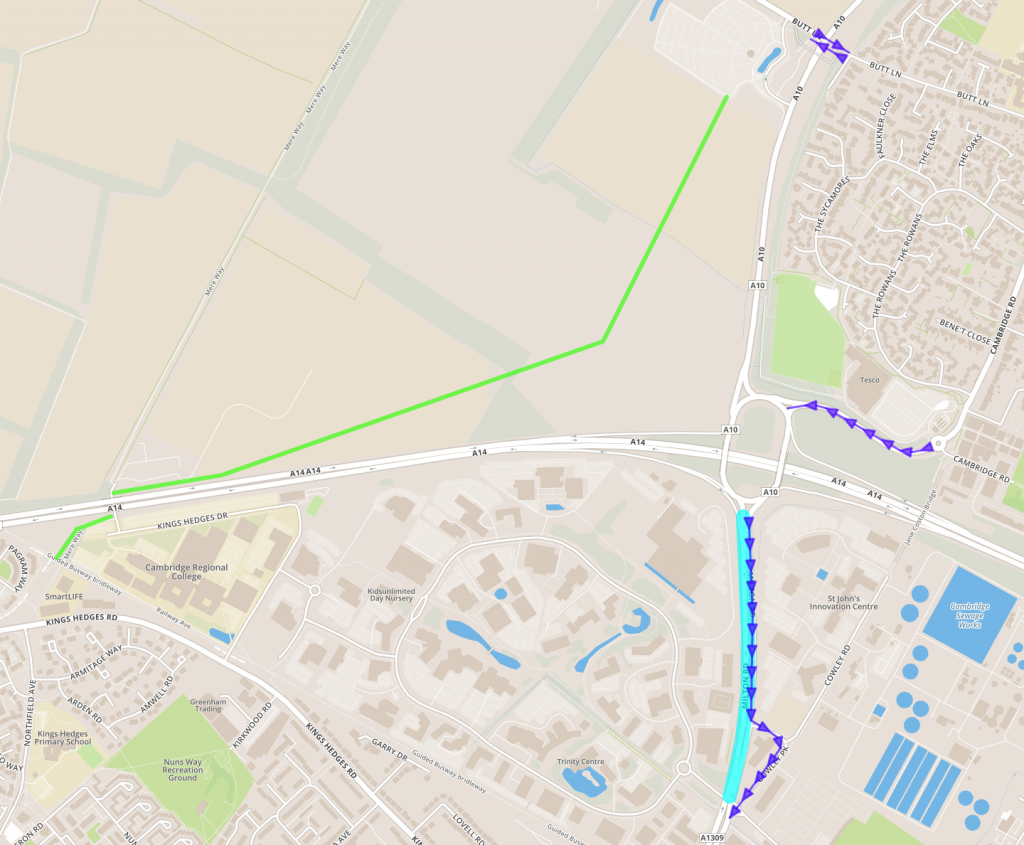 Milton Road
First 580m from A14 interchange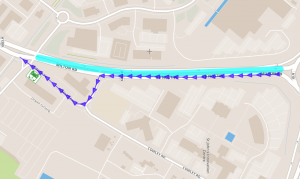 Reallocate lanes and narrow to 3.2m in order to create additional space for the Inbound Flow Control reservoir and a southbound bus/bypass lane (shared with the Cowley Rd filter lane).
Have just one southbound filter lane for the Science Park, but extend to an optimal length.
Relocate the bus stop on the east side of Milton Road before the Science Park junction to Cowley Road.
Other
Local sentiment is strongly in favour of keeping the roundabout at Elizabeth Way, therefore the benefits of any change here needs to be demonstrated and explained clearly, and the community should be involved in designing any new green space.

This bus stop on Milton Road should be re-assigned to a loading bay, and the bus stop moved 30m back.

Move the bus stop from in front of Co-Op store to the parking lay-by about 30 metres towards Elizabeth Way roundabout and convert the existing bus stop to a loading bay.

Many school children currently cycle south on the west side of Milton Road. There is a legitimate concern that if unidirectional cycle paths are provided, people will cycle the wrong way on the northbound cycleway and/or on the footway. Making the cycleway on the west side of Milton Rd bi-directional (3m or wider) between Ascham Road and King Hedges Rd is one option, but would entail the loss of around 1,500 square metres of green space. Other options should be explored, including providing short sections of bi-directional cycleway to connect side roads to toucan crossings.
Reduce the speed limit from 30mph to 20mph west of the Elizabeth Way roundabout, as there are an unacceptable number of collisions on this section of Milton Road.
Histon

Create an express bus stop, with a set-down and pick-up area and cycle parking, close to the junior school.
Extend existing segregated bi-directional cycle way in Histon along the west side of the B1049, around the west side of the A14 interchange.
Consider a new bridge/underpass to link Histon Road with Cambridge Road in Histon with the objective of providing a much safer cycle route between Histon Road and Impington Village College.
Histon Road
First 375m from A14 interchange
Reallocate lanes and narrow to 3.2m in order to create additional space for the Inbound Flow Control reservoir and a southbound bus/bypass lane (partly shared with the Kings Hedges Rd filter lane).
Consider widening by one lane to the west to create additional resilience at peak times.
Remove in-road cycle lane (unsafe) and off-road cycle lane on east side of Histon Road (which requires a crossing of Kings Hedges Road and hence severely reduces junction efficiency).
Continue bi-directional cycleway on west side of Histon Rd to the front of the Inbound Flow Control 'gate', where a toucan crossing connects southbound cyclists to the new off-road cycle lane on the east side of Histon Road (see below).
Other
Reduce the speed limit south of Kings Hedges Road from 40mph to 30mph, as 40mph is too fast for a carriageway immediately adjacent to a cycle lane.
Reduce the speed limit south of Gilbert Road from 30mph to 20mph, as there are an unacceptably high number of collisions on this section of Histon Road.
Build a new southbound cycle lane in the lane between Histon Road and the allotments, linking with the shared-use cycle lane alongside Kings Hedges Road. This would be an opportunity to re-landscape the area. Note that there is a design by Jean-Paul de Garde of Flood Team Europe for an integrated cycleway and drainage ditch.

Combined cycleway and drainage ditch
Inner ring road
The design of Mitcham's Corner and the Victoria Rd-Histon Rd-Huntingdon Rd junction depends crucially on vehicle movements and traffic volumes, which in turn depends on what is done to promote free-flow for buses in the city centre. As background, this sets out the role we propose for the inner ring road (see our paper on Buses):
Route all city buses around the inner ring road rather than in and out of Drummer Street. This would provide convenient interchanges around the inner ring road between all bus services, and make them considerably more useful to city residents.
Route buses via Chesterton Road rather than Victoria Road, which is unsuitable for heavy vehicles, including double-decker buses.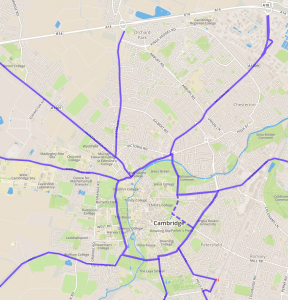 Note that the map shows most buses being routed via Maids Causeway and East Road, with some (at least twelve per hour) running via Emmanuel St and Parker St. This reduces conflict with medium and long distance services that will continue to terminate at Drummer Street and Parkside.
Restrict access through Northampton Street and Victoria Avenue to buses and cycles, thus pushing other traffic out to Victoria Rd and Elizabeth Way.
Remodel Victoria Rd–Histon Rd–Huntingdon Rd junction to optimise future traffic flows, with segregated cycle movements.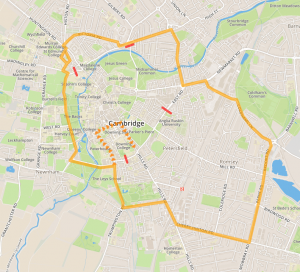 Within the inner ring road, it should be commercially viable (possibly with financial assistance from, for instance, Cambridge BID) to run one or two small eco-buses to shuttle people (especially those with reduced mobility) between bus stops on the ring road and central locations.
It should also be commercially viable to run cycle hire bases from a few points on the inner ring road. There is already one on the corner of Newnham Road and Fen Causeway; another site might be Queen Anne Terrace multi-storey car park.
Mitcham's Corner
Radically simplify the road layout at Mitcham's Corner, removing most of the section furthest from the river (red dashed line on the map). The access restriction at Northampton Street (see above) will reduce the volume of traffic on Chesterton Road west of the Victoria Rd junction. The access restriction to Victoria Avenue (see above) will push traffic over to Elizabeth Way, drastically reducing the volume of traffic turning in and out of Victoria Avenue, opening this up as a much more cycle-friendly route into the city. Create segregated cycle paths connecting all the roads.